True name

Medusa

Also known as

Bewitching Black Serpent

Master

Sakura Matou, Shinji Matou

Gender

Female

Alignment

Chaotic Good

Height

172 cm

Weight

57 kg

Place of origin

Greece

Noble Phantasm

Bellerophon, Blood Fort Andromeda, Breaker Gorgon
Overview
Rider's True Name is Medusa, the Gorgon from Greek mythology. Rather than being a regular Heroic Spirit, she is an existence closer to a Divine Spirit, but her actions have made it better to categorize her as an "anti-hero closer to a monster." With her older sisters Stheno and Euryale, they made up the three Gorgon Sisters who inhabited the Shapeless Isle. She was known as the "woman who dominates", an anti-hero who became as such due to the dark thoughts of humans. Differing from someone like Hassan-i-Sabbah who was a hero who actually existed, she is said to be one of legends born by the gathering of belief.
The legend of Medusa is different than her actual life. She was said to be a half-human, half-god female beast often portrayed with the form of a snake. Originally she was an Earth Goddess. While all originally beautiful women, she and her sisters were hated by Poseidon's wife because of his love for them. Athena, jealous of their beautiful hair, transformed them into demons. Secluding themselves in a lightless temple on the Shapeless Isle, they only attacked humans with a reason. Eventually, as a victim of the gods' unreasonable actions, she was to have her head cut off on their whim. Defeated by Perseus by reflecting her petrification back at her with his mirror-like shield, Pegasus, the son of Poseidon, was said to have sprung from the blood of her headless neck.
Combat skills
Rider fights with a low-risk and high-return type of warfare that is not fixated on the methods used to win. She fights mainly with a Nameless Dagger, in close combat that is more likely to be called a "nail" rather than a "dagger." It is attached to a long chain that can restrain and immobilize targets that she pierces. It is not suited to short-range battles, instead best utilized as a thrown weapon from a distance. It is not a Noble Phantasm, and while its origin is unknown, it is thought to be a weapon that reflects her inner character. She boasts outstanding speed, moving like a bullet and racing around the battlefield. She is faster than Lancer in terms of average speed, but he will surpass her in immediate maximum output. Due to her nature as a Gorgon, she has a monster alignment that may make fighting battles against monster exterminators, such as against an expert like Lancer, tough for her. While she is normally blindfolded, she perceives the world through hearing, touch, smell, and magic-detection to have an even more precise outlook than with sight.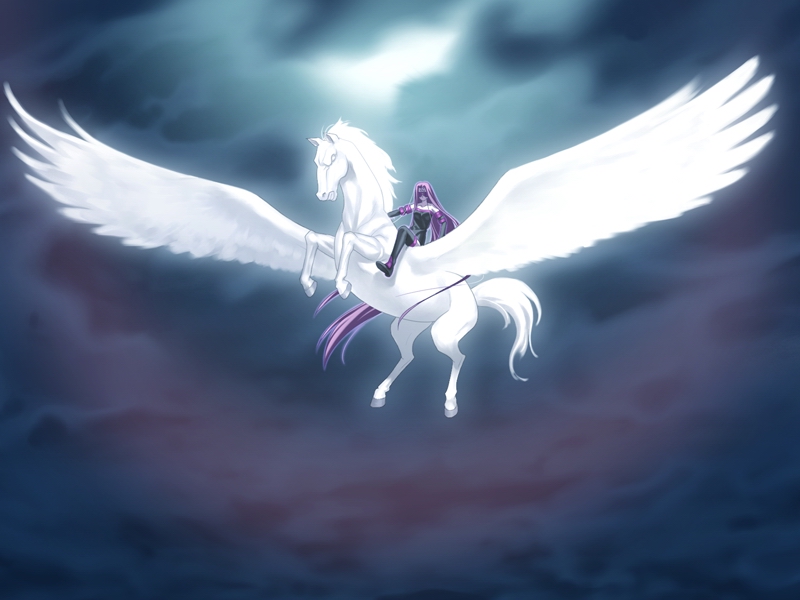 She is a unique Heroic Spirit who displays a great variety of skills and Noble Phantasms that are particularly high numbered even amongst other Servants, all of which are traces left from her time as a goddess. Due to her status as a former earth goddess, she has a strong connection to the earth, sensitive enough to its state to be able to sense disturbances in Fuyuki's leyline. Due to her contract being passed to Shinji, her abilities are lowered, and she must seek out alternative means of magical energy. While she takes blood for the most part, she is not a Dead Apostle, but rather a bloodsucker whose most efficient manner of gaining energy is through drinking blood. Her main offensive Noble Phantasm is Bellerophon, which allows the Pegasus to use an extremely powerful charge that resembles an arrow of light. She also has use of Blood Fort Andromeda, a Bounded Field designed to collect life energy from whoever is inside. Once it is set and activated, it can instantly liquify any normal humans inside and convert them into energy. Breaker Gorgon is another Bounded Field that seals the target inside the user's mind. She mainly uses it on herself in the form of a visor to seal her Mystic Eyes.
With her Riding skills, she can ride on animals and vehicles, allowing her to mount creatures on the level of Phantasmal Beasts and Divine Beasts. She uses an unlisted, innate ability to bring forth the Pegasus given to her by Poseidon, initially thought by Shirou to be her main Noble Phantasm. It actually lacks any sort of name, and it is treated much in the same manner as her dagger. Having remained since the Age of Gods, its abilities are far beyond those of a normal Pegasus that would only be limited to the strength of a several hundred years old Monstrous Beast had it been one of the few remaining Phantasmal Species from the current age. Increasing in strength as it has lived, it has the strength of a Phantasmal Beast far beyond something like Invisible Air that could defeat a normal Pegasus. If left without the ability to readily use a strong Noble Phantasm, it easily overwhelms Saber and leaves her in a position to only bide her time and wait for a mistake on Rider's handling.
Magecraft
Cybele, the Mystic Eyes of Petrification, are Rider's Mystic Eyes, said to be a "curse of the gods sealed by the powers of shrines." Though petrification sorcery is no strange thing for modern Thaumaturgy, even if its users are rare and few in numbers, Mystic Eyes capable of petrifying others are something that nobody, human or not, possesses in the present era. They are designated as Jewel under the Noble Colors system, which surpasses the Gold-ranked Eyes of the Dead Apostles and are exclusively possessed by Holy Spirits and Magical Beasts from the Age of Gods. Their nature is strong enough a mystery that Shirou mistakes the identity of Breaker Gorgon as the eyes themselves.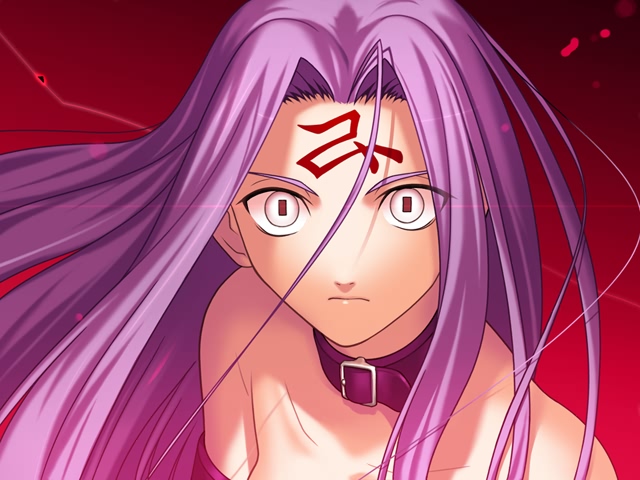 The eyes, almost too abnormal to be called eyeballs, are gray with an appearance similar to crystals. Despite their abnormality, Shirou believes that they are too beautiful for any human to possess, and could either be art the gods admired or a nature they cursed. The corneas do not take in light, and the pupils see the world through a square. The irises are solidified, not allowing the eyes to close, and the millions of cells that make up the retinas are composed of the Sixth Imaginary Element. It affects all targets within the owner's field of vision, regardless of whether said targets are looking at the Eyes physically, or if they have their eyes closed but continue to view her with their mind's eye, as it is a curse to look upon her in any way. The only way Perseus was able to avoid her gaze was by utilizing his mirror shield to find her location without looking upon her at all.
Personality
ider is silent, sultry, and vigilant, never hesitating to shield her Master from harm. She is always faithful to her Master, even with Shinji acting in that role most of the time. She is not openly talkative, and she prefers to analyze people and their actions. She is very protective of Sakura and willing to sacrifice herself for Sakura's happiness. She is very logical and she doesn't act out of anger or instinct.
Role
Rider's initial Master was Sakura Matou; however, she became the Servant of Shinji when Sakura, pressured by Shinji, yielded her Master's right to him. Rider holds no love for Shinji, seeing him as vile and predatory, but obeys his commands as a dutiful Servant. Because of their similar backgrounds, she is empathetic of Sakura, and seeks to protect her whenever possible. Like many of the Servants who participated in the 5th Holy Grail War, Rider has no motivation for seeking the Holy Grail.
Fate
In Fate, Rider is obliterated by Saber's Excalibur after continious battle.
Unlimited Blade Works
In Unlimited Blade Works, Rider is killed early on by Caster's master, Souichirou Kuzuki.
Heavens Feel
During Heaven's Feel, Rider is liberated from her indenture to Shinji, and assists Shirou Emiya in his battle against Saber Alter and Angra Mainyu
Abilities
Magic Resistance: B

Cancel spells with a chant below three verses. Even if targeted by High-Thaumaturgy and Greater Rituals, it is difficult for them to be affected.

Riding: A+

Creatures on the level of Phantasmal Beast and Divine Beast can be used as mounts. However, that does not apply to members of the Dragon Kind.

Divinity: E-

Divinity is the measure of whether one has Divine Spirit aptitude or not. At high levels one is treated as a mixed race of a Divine Spirit, and the level declines when the Heroic Spirit's own rank as a Monster, Demonic Beast raises. It can also decrease due one's dislike for the gods. It also has an effect which reduces special defensive values called "purge defense" in proportion to the Divinity's Rank.

Independent Action: C

It is possible for a Servant to stay in the world for one day without a Master.

Monstrous Strength: B

Ability possessed by monsters and beasts, temporary boost of the Strength parameter by one rank for a time limit determined by the ranking of this skill.

Mystic Eyes: A+

Possession of Mystic Eyes that are capable of interfering with the outside world.
Gallery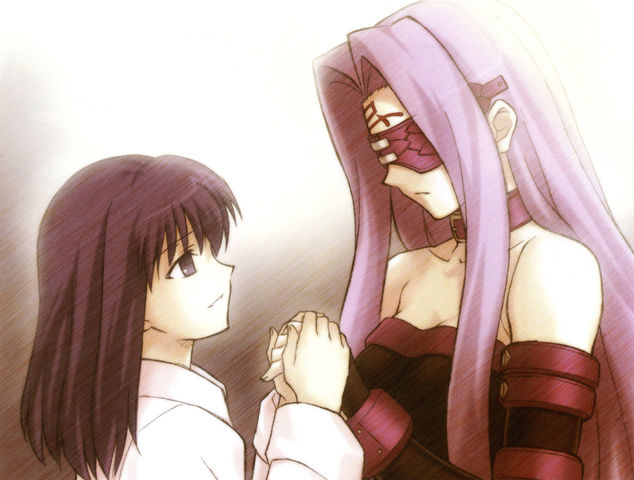 Fate/unlimited codes opening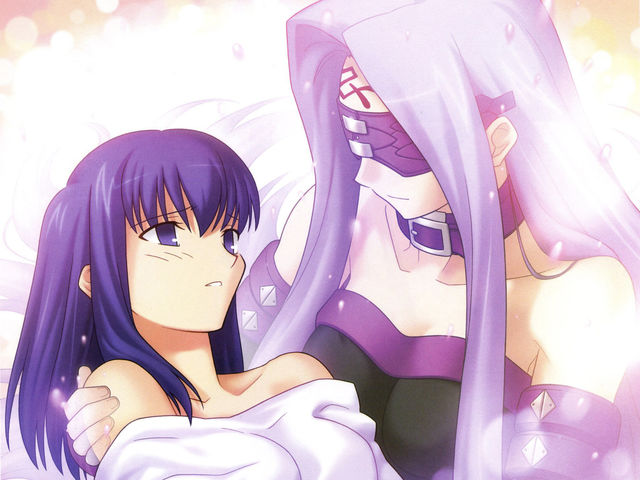 Fate/unlimited codes ending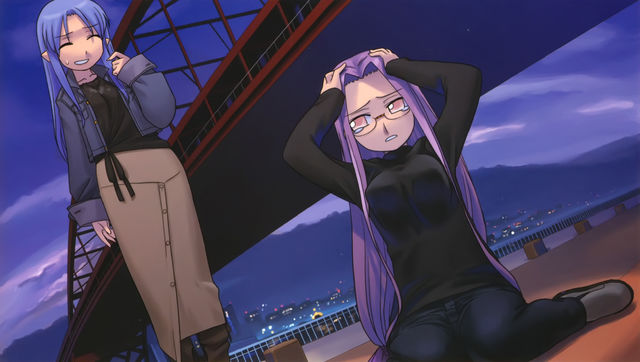 Fate/tiger Colosseum Rider's ending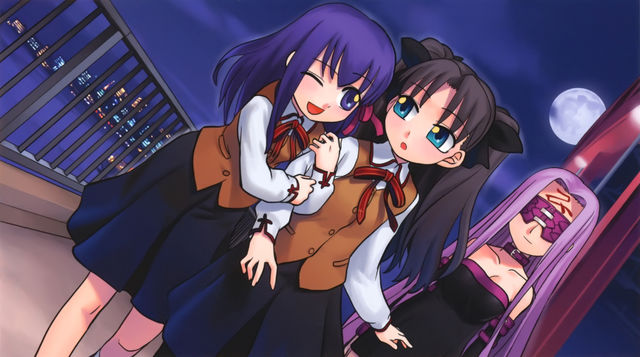 Fate/tiger Colosseum Sakura's Upper ending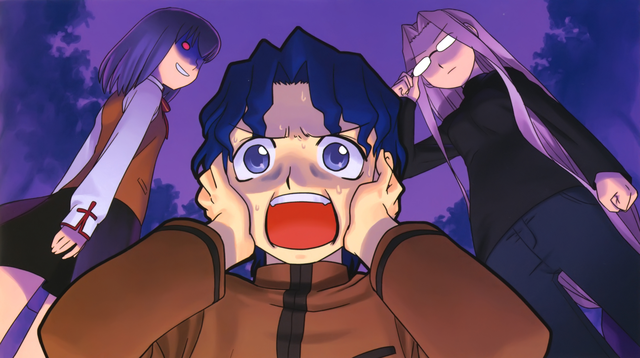 Fate/tiger Colosseum Shinji's ending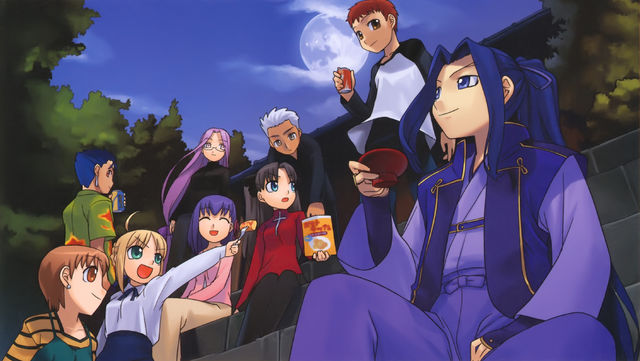 Fate/tiger Colosseum Assassin's ending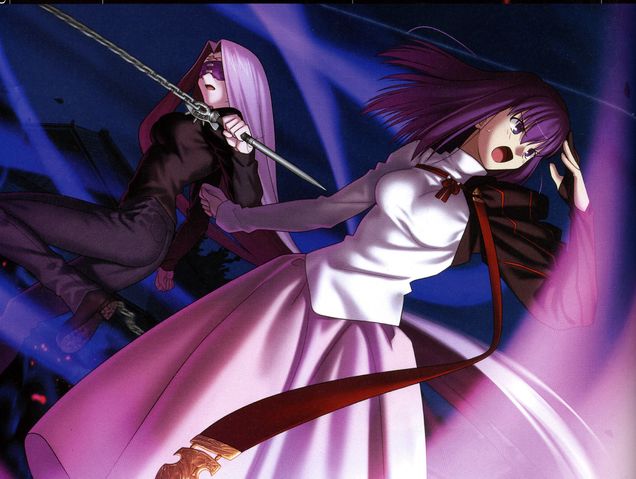 Sakura and Rider facing against the shades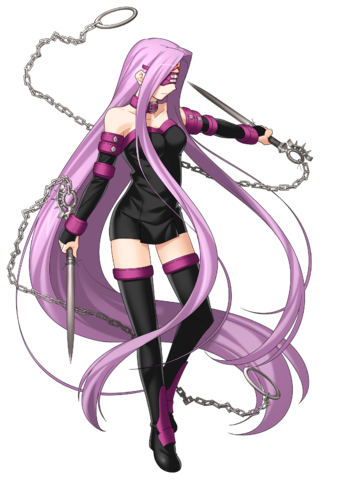 Rider in Fate/Unlimited Codes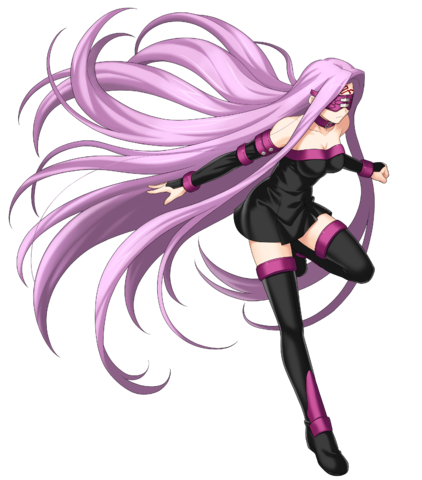 Rider in Fate/Unlimited Codes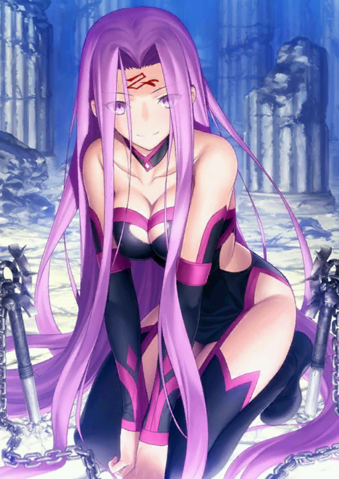 Rider stage 4 in Fate/Grand Order