Also known as

Idol

Affiliation

Homurahara Academy, Year 2 class A

Servant

Archer

Gender

Female

Birthday

February 3

Height

159 cm

Weight

47 kg

Place of origin

Japan
Background
Two centuries ago, the Tohsaka House, in collaboration with the estates of Makiri and Einzbern, helped found the Fuyuki Holy Grail Wars. The land of Fuyuki City, which possessed the second greatest spiritual power in all Japan, was owned by Rin's ancestor, Nagato Tohsaka; at the behest of the Einzberns, he provided his property as battleground for present and future wars. Nagato was a kirishitan, as well as a pupil of Zelretch; these titles gave him considerable influence in both the Mage's Association and the Church, allowing the Tohsaka family to participate in the Holy Grail Wars, free from harassment by either organization.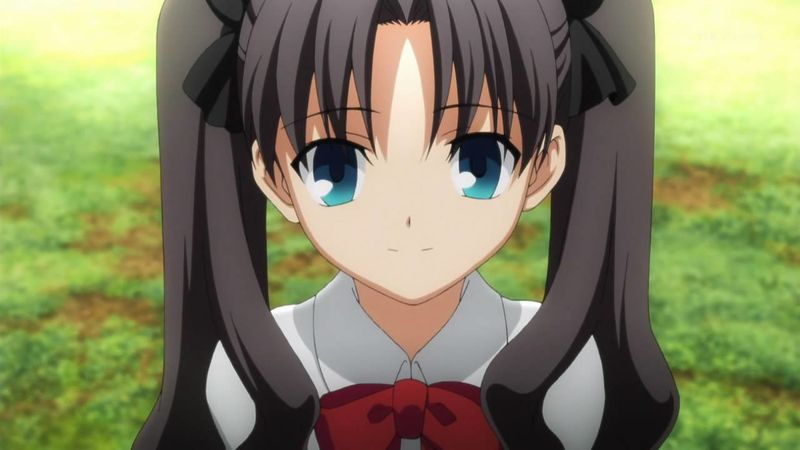 Rin was brought up as the successor to her family's magecraft, and was instructed by her father to prioritize magecraft over her own interests. Ten years ago, Tokiomi Tohsaka was selected as a Master in the 4th Holy Grail War, and Rin was entrusted to take care of the Tohsaka estate until his return. Her mother, Aoi Tohsaka, was left in a debilitated state from the war, so her care was left to her guardian, Kirei Kotomine. After her father was killed, Rin continued to improve her sorcery with some guidance from Kirei Kotomine. To divert attention from her private life, Rin has diligently strived to earn the admiration of her peers, even though she is secretly stingy, tomboyish, and a slacker. The rights to the Tohsaka lands were inherited by Aoi after Tokiomi's death, and subsequently inherited by Rin after Aoi's death. Kirei managed them as Rin's guardian, and because of his foolhardy and coarse management, the majority of profitable properties ended up in the hands of others. It is possible that he believed the wealth was bad for her upbringing due to following the principles of humility and poverty. Although Rin resents the sacrifices she has endured for the sake of tradition, she is fiercely competitive and eager to prove herself as a skilled and capable magus. She was immensely disappointed at summoning Archer and ended up in a quarrel with him; however, the duo soon reconciled, set aside their differences and quickly got along.
Personality
Rin is a perceptive, serious, resourceful and very competitive person. Though she is widely admired at school as a prim and proper honor student, it is a front she puts up in order to prevent others from prying into her life. In private, she is notably loud, shrewd, stingy and bossy, but usually means well for those she cares about. She is known as a model student and idol of her school. Her manner of speech is often hostile and dismissive of other people, but deep down she has a caring, big-sisterly disposition. Her tendency of making trivial mistakes at the worst possible moment is a hereditary curse. Though she really is a lot nicer than she seems, she claims to always make her decisions based on cold, rational logic in the end. In her own words, it's "not a very cute personality". In fact, her choice in personal clothes is probably an overreaction to that. Despite claiming that she would do anything in order to win the Holy Grail War, no matter how underhanded, she has a deeply rooted sense of honor, seen refusing to dispose of Shirou despite numerous easy chances of doing so, simply because she owes him and deem disposing of him without clearing her debts to be cheap.
She spent just as much time quarrelling with Shirou as she did cooperating with him. She's a mischievous girl at heart, so she loves teasing serious people such as Shirou. However, Rin did want to kill him when she saw his Gradation Air in his shed, thinking that he lied to her. Although she claimed to be not interested in anyone, the Heaven's Feel scenario revealed that Rin has been attracted to Shirou after witnessing his stubborn attempts to finish a high jump that he had no chance of finishing when they were younger. Rin was very supportive of Shirou's relationship with Saber in the Fate route. In the Unlimited Blade Works, they became aware of their mutual crush and attraction which developed to love. In Heaven's Feel, Rin reveals her attraction to Shirou while giving advice for Sakura and their closeness makes Sakura jealous and resentful of Rin.
Abilities
Rin was born capable of manipulating all five great Elements, a extremely rare trait for a magi. Her potential is such that she will eventually be considered as one of the top one hundred ranking magi throughout the entire history of the Mage's Association. Compared using simple numbers, someone with an abnormally high potential like Ciel is at one hundred, someone who is eternally at apprentice-level like Shirou is at ten, and Rin falls from seventy to one hundred.
As the successor to the Tohsaka family, Rin excels in Conversion of power, which includes storage of magical energy in objects, typically jewels for Jewel Magecraft. She uses them as disposable, limited-function Mystic Codes. Because the amount of energy a magus can release at one time is restricted by bodily limitations, Rin has been able to accumulate all of the magical energy generated by her body during her lifetime through jewel crystallization. As with practicing of sorcery, charging these jewels has become a daily process for her turning them into powerful bullets. However, in the end they are merely disposable items. Because their sorcery reduces expensive jewels to ash after a single use, the Tohsaka magi are fated to be chronically afflicted with a lack of funds. When Rin's stored power is needed, she can utilize the jewels for an instantaneous release of A-rank magic capable of countering a spell from Caster's magecraft from the Age of Gods or taking one of Berserker's lives by using five jewels. Their speed of release is great enough that it can match Caster's High-Speed Divine Words.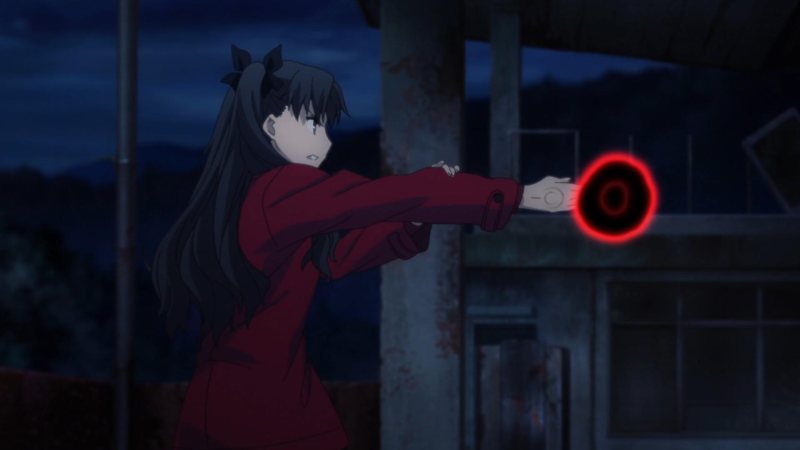 Her most common offensive spell is a Finnish technique known as Gandr, which concentrates magical energy into Rin's forefinger, resulting in a hazy black orb to be subsequently fired like a bullet. Originally intended to be a curse, Rin's variation on Gandr takes on an unusual, corporeal form. Additionally, Rin has bypassed any need for a verbal component to initiate this spell due to having inherited and infused Magic Crest of her family, and she can fire as many Gandr shots in an instant, even set up a barrier and rain them on an opponent if she so chooses. Since Rin's Gandr Shot was particularly violent, capable of punching through and disintegrating a large portion of a concrete wall with just a single shot, it could be considered on the level of Finn Shot. Or, Finn Gatling Gun.
Role
Rin narrates the prologue of Fate/stay night, detailing her first three days involved in the 5th Holy Grail War. In her dialogues, she reveals to her Servant Archer that she is only participating in the war out of her own competitive desire to become the winner. She also expresses dissatisfaction with Archer, for she was attempting to summon a Saber-class Servant, though she quickly grows accustomed to him.
By the conclusion of the prologue, Rin would have used two Command Seals on Archer; the first is to force him into submission after he acts insubordinately to her after he is summoned. The second is to force him into ethereal form before he is killed by Saber, except for the Unlimited Blade Works path where Shirou uses a Command Spell to stop Saber's attack instead. In all scenarios, her position as narrator is replaced by Shirou.
Fate
Rin acts as an advisor to Shirou, dutifully attempting to school him in traditional sorcery in light of his powerful Servant, Saber. Although Shirou's recklessness results in the death of Archer, she bears Shirou no ill-will, though she hides bitterness at her loss of both her Servant and her chance at winning the war. Rin is later stabbed by Kotomine in Shirou's home, though she survives and ultimately leaves for London after the war to become a true magus.
Unlimited Blade Works
After learning that Shirou is a complete novice, Rin takes him to Kotomine Church and introduces him to Kirei so that he can have the Holy Grail War explained to him, believing she owed him that much. Upon leaving, they are attacked by Ilya and her Servant, Berserker, forcing both teams to work together. The fight leaves Shirou wounded, and Rin helps Saber get him home, staying to make sure his injuries are healed before making to leave. When Shirou tries to thank her, she reminds him that the Holy Grail War is a fight to the death and the next time they meet, it will be as enemies
The next day, Shirou shows up for school as he normally would and angers Rin, who feels he's ignored her warning. Deciding to make good on her threat, Rin waits until all of the other students and teachers have left the school and then launches her assault, relentlessly pursuing Shirou with the intent to kill him unless he surrenders Saber's Command Spells. She is interrupted at the last moment by the sudden appearance of Rider, who attacks a student. Shirou and Rin promptly team up to drive Rider away and call a truce. Forming an alliance, they begin searching for possible candidates for Rider's Master.
The following day, Shinji Matou reveals himself as Rider's Master when he has her use Blood Fort Andromeda to attack the school and everyone in it. A second Servant attacks at the same time, and Saber is summoned. While she fights the Servant, who turns out to be Caster, Rin and Shirou fight their way through golems to get to Rider and stop her. They arrive only to find she's already been killed, though Shinji runs away without telling them who killed her. With Rider defeated, Rin and Shirou's focus shifts to uncovering the identity of Caster's Master, suspecting that it has to be someone else from the school. When it seems that it might be a teacher, Souichirou Kuzuki, Rin takes the lead and plans an ambush to reveal his identity as a Master or not. Since Archer had suggested they ally with Caster instead of Shirou, Rin decides to leave him behind and only bring Shirou and Saber, not wanting Archer to be around Caster and thinking Saber would be more than enough to handle the situation. The plan works initially, confirming Kuzuki's role as Caster's Master, but things quickly sour when he and Caster fight back. Nearly overwhelmed by their combined strength, they are saved only by the surprise of Shirou's projection attacks and Kuzuki's call to retreat rather than fight further. In order to make it easier to plan and strategize, Rin comes to stay at Shirou's house.
Shirou follows Rin and witnesses her confronting Kuzuki and Caster in Kotomine Church, their new base of operations. To her shock, Archer suddenly betrays Rin and attacks her. Shirou saves her and, although she is reluctant, she eventually thanks him and accepts his help again. With Archer gone, both decide to ask Ilya and Berserker for their help. Unfortunately, they arrive too late and find that Shinji and Gilgamesh have already killed them. Lancer shows up shortly afterwards, however, with orders to help them take down Caster if they are willing to cooperate together. Out of options, they accept. They return to the Kotomine Church, where Lancer fights Archer again. Archer admits defeat and retreats into the church. Meanwhile, Shirou and Rin team up to fight Kuzuki and Caster, ending in a stalemate until Rin turns the tables, attacking Caster not with magecraft but martial arts, and nearly killing her. Kuzuki prevents her from delivering the final blow, and Caster tries to use a spell to completely dominate Saber and send her against Shirou and Rin. But before she can, Archer arrives and attacks Kuzuki, killing Caster when she takes the strike for him.
Even with both of them defeated, Archer is still not on their side, however, and he reveals his true motives and intent to kill Shirou. Rin makes a new contract with Saber, thereby making her Saber's Master, to stop him. Archer then kidnaps Rin and takes her as a hostage to Einzbern Castle. There, Shinji tries to rape her, despite her warnings that he is just being manipulated. Further, Kirei arrives and reveals his plot to kill Rin and turn her body into the vessel for the Lesser Grail, finally revealing to Rin's fury that he murdered her father as well. She is ultimately rescued by Lancer, who kills Kirei and drives off Shinji before dying himself. Shirou, Rin and Saber go back to the Emiya household to make a plan to stop Gilgamesh and deal with the Grail. After giving Shirou enough mana to access his Reality Marble, they set out and reach Gilgamesh's new hideout, Ryuudou Temple. Rin saves Shinji, who had been used as the Grail's core, fighting off its manifested curses and attempts to pull him back in, even as it tried to swallow them in a mass of flesh. Upon escaping, Rin uses her final Command Spell to order Saber to destroy the Grail.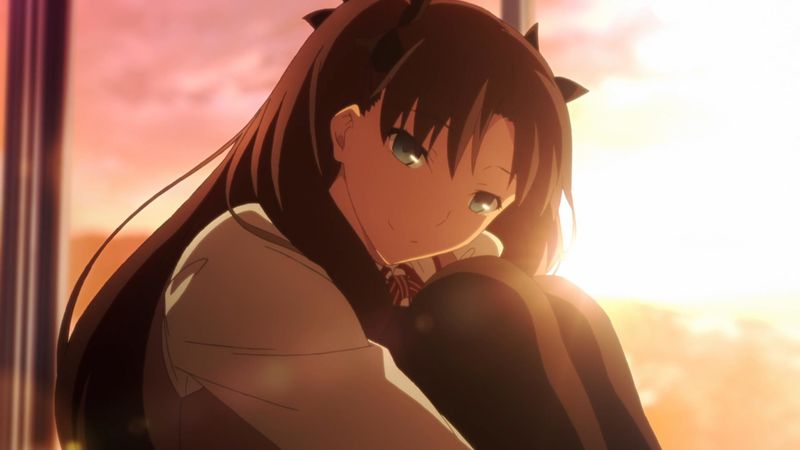 Meanwhile, Shirou successfully defeats Gilgamesh. However, Gilgamesh tries one last time to make him the new incarnation of the Holy Grail. Fortunately, Archer, who also appeared to help Rin at the same time, comes to Shirou's aid. Rin bids her Servant goodbye as Archer tells her to take care of his younger self, hoping that her care for Shirou will change the future and grant his wish to save Shirou from his ideals. In the end, Rin finally sees Archer with a genuine smile, the same one as Shirou's.
In Rin's True Ending, she heads off to the Mages' Association after she graduates, and asks Shirou if he would be willing to travel with her to London as her apprentice so they can stay together and she can watch over him, though they both know he would say yes. In Rin's Good Ending, she keeps Saber as her Servant, and Rin and Shirou live a normal happy life. Rin is the Winner of the 5th Grail War in this route.
Heavens Feel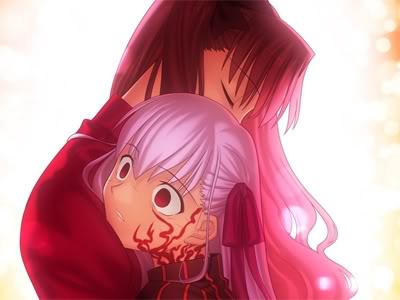 In the "Heaven's Feel" scenario, Rin reveals to Shirou that Sakura is actually her biological sister who was adopted into the Matou family. Despite her cold words that Sakura must be killed to prevent the Shadow inside her from killing more people, Rin is actually reluctant to kill her sister. In the climax of the route, Rin uses the Jeweled Sword Zelretch to fight Sakura; during the fight, the sisters are finally able to admit how they truly feel towards one another. Though Rin is stabbed, Sakura realizes her sister's love for her and manages to regain control of herself long enough for Shirou to trace Rule Breaker and free her from the Shadow's control. The sisters reconcile in both the Normal and True Ending.
Gallery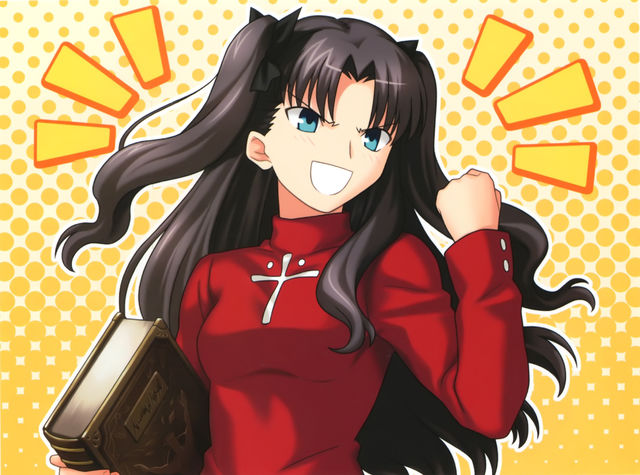 Fate/unlimited codes opening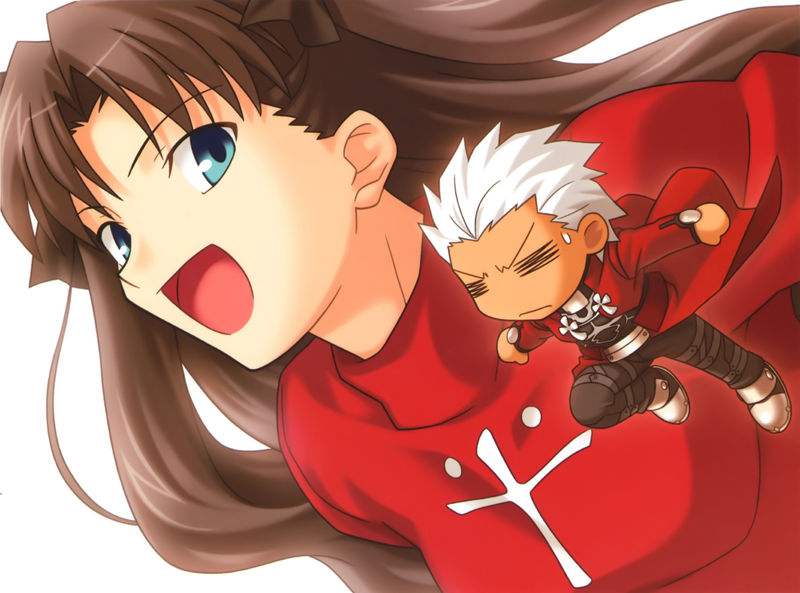 Fate/unlimited codes ending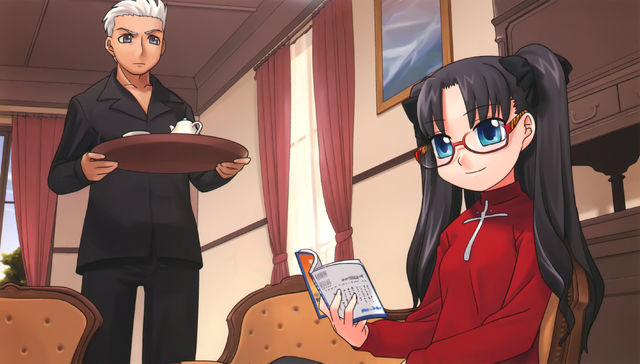 Fate/tiger Colosseum Rin's ending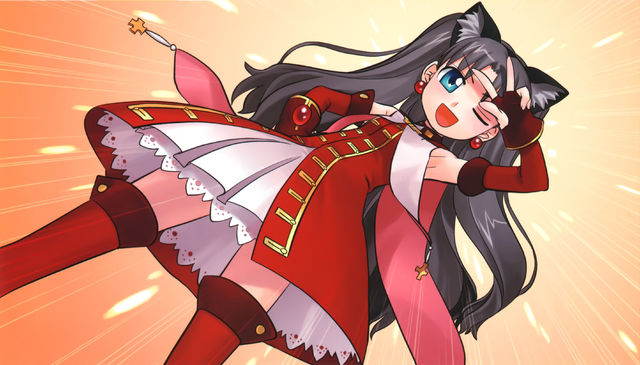 Fate/tiger Colosseum Rin's Upper ending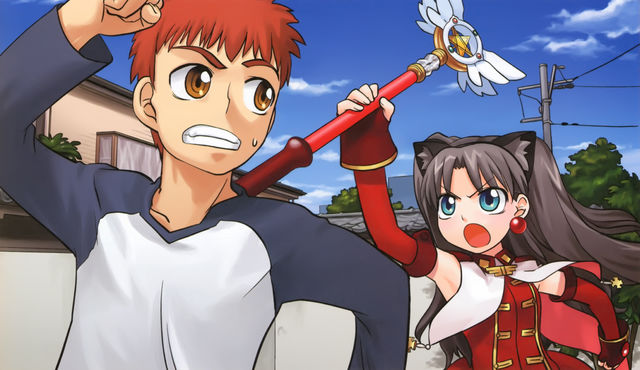 Fate/tiger Colosseum Kaleido Ruby's ending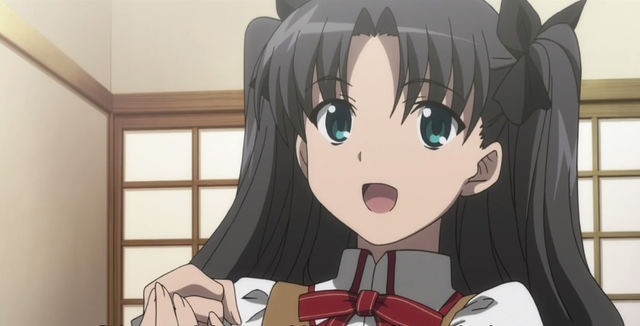 Rin in Carnival Phantasm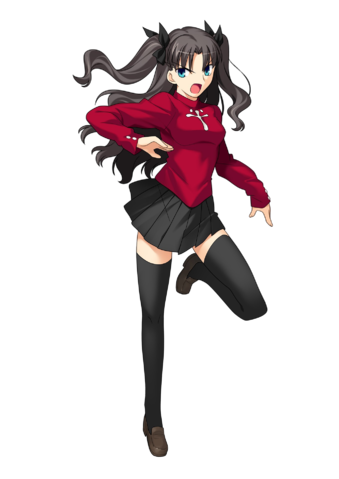 Rin in Fate/Unlimited Codes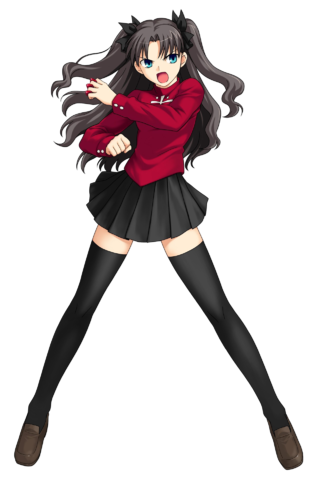 Rin in Fate/Unlimited Codes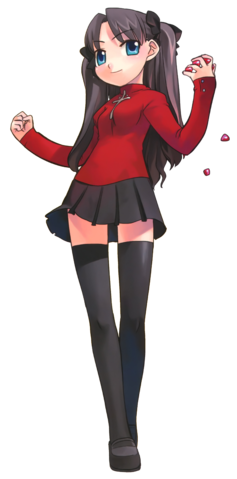 Rin in Fate/tiger colosseum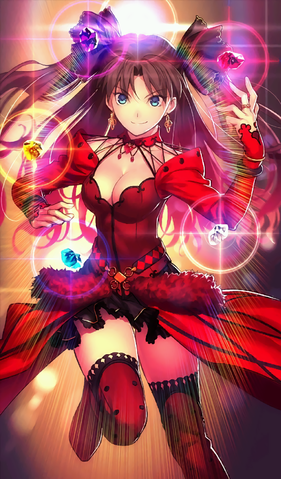 Formal Craft in Fate/Grand Order